20 Years of Washroom Systems Excellence
Commercial Fabrications (Commfab) is Greater Western Sydney's premier toilet and shower partition designers, manufacturers and installers for over 20 years.
We supply to builders in commercial construction and fulfil tenders from the education, hospitality, local government, sports and recreation, and factories and warehousing sectors.
Above all, Commfab is committed to producing quality results with fast turnaround. We pride ourselves on supplying and installing washroom partitions on-time and on budget, with consistency in quality and workmanship.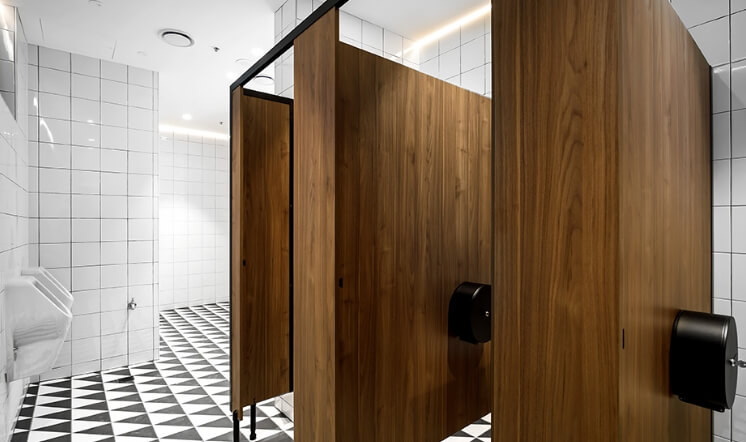 Our suite of products and services
All of Commfab's services are provided in-house by our experienced and qualified team of washroom partition professionals – maintaining the highest quality control and allowing us to meet tight deadlines.
Our team helps you design cost-effective washrooms that suit your needs. We sit down with you to discuss materials, placement, laminates, colours, cost-saving options and the finer details. Once we've completed your design, it's handed off to our manufacturing team. We offer bench seating, Hardicolor CFC washroom partitions, toilet partitions, shower partitions, privacy panels, vanities, cut-to-size board and other washroom materials in a variety of colours, materials and sizes. We can deliver to your site or install direct – the choice is yours. If we install direct, the work is completed by our in-house team – we don't use subcontractors.
Commfab is able to manufacture and cut fibre cement products to size, maintaining a chain direct from suppliers to us, so we can deliver materials to your project faster. We offer a complete range of bathroom accessories and washroom hardware at competitive prices, all sourced from Australian brands. Commfab is also a proud authorised distributor of Metlam Australia washroom products.
Where we work
Commfab is based at Riverstone in Greater Western Sydney, and directly services NSW and the ACT. We supply our washroom systems and other accessories anywhere in Australia, using innovative flatpack systems to ensure timely delivery and installation.
Our commitment to you
The Commfab team is an agile team, allowing us to meet stringent deadlines with quality materials. We endeavour to accommodate client needs and timeframes. We strive to maintain maximum cost-effectiveness – where others say it's out of budget, we work harder to make it happen.
We source all our materials for toilet cubicle partitions, washroom partitions, door hardware and accessories from trusted Australian brands backed by industry-leading warranties.
Get a quote today
Talk to one of the friendly team at Commfab about how we can cater
for your washroom needs.